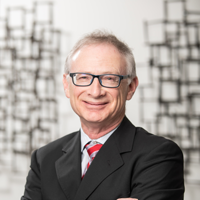 David Yabrov
Accounting and Assurance
CPA, CA, LPA, CBV, MBA CPA (Illinois), ASA
dyabrov@kbllp.ca
905-475-2420 x347
"David draws on his unique, multi-faceted skillset and 30 years of experience to provide valuable advice to his clients."
David Yabrov joined Kraft Berger in 1981 and became a partner in 1987.  David provides assurance and advisory services, including audits and reviews, for clients in various industries, such as: construction, entertainment, mining, manufacturing and golf courses. As a Chartered Business Valuator, David also has expertise in business valuation and litigation support. He performs business valuations in support of purchase and sale agreements and divorce settlements, and has appeared as an expert witness at several legal proceedings. David draws on his unique, multi-faceted skillset and 30 years of experience to provide valuable advice to his clients.
His areas of practice include:
Business valuations
Litigation support and expert witness testimonies
Audits and reviews in ASPE and IFRS
U.S. GAAP/IFRS consulting
After graduating in 1981 with a Bachelor of Business Administration from York University, David received his CA from the Institute of Chartered Accountants of Ontario in 1983, and earned a Master of Business Administration in 1987. He earned the designations of Chartered Business Valuator in 1992 and Certified Public Accountant (Illinois) in 2000. In 2012, he completed the IFRS Certificate Program. David is the Secretary-Treasurer for the Toronto Chapter of the American Society of Appraisers, and is a member of the Canadian Institute of Chartered Accountants, Canadian Institute of Chartered Business Valuators, American Institute of Certified Public Accountants and American Society of Appraisers. Outside the office, David is an enthusiastic supporter of youth baseball, hockey and soccer.
Stay Tuned
Updates on Industry News
[wysija_form id="1"]